Examining inalienable human rights and corporate rights.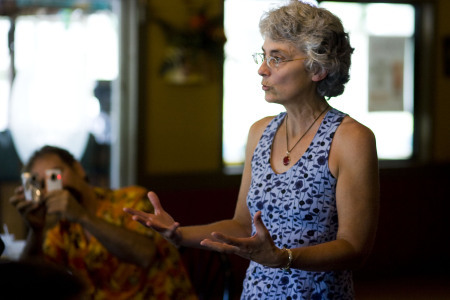 Upcoming Education Workshops, Teach-Ins, and Presentations
RIKI OTT WILL BE SPEAKING AT THE FOLLOWING EVENTS
October 20th, 2018
8 AM to 4:30 PM (Time of presentation TBA)
Ultimate Civics: Kids, Climate, and the Court – How to Use Our Rights to Defend What We Love
The 11th Annual Northwest Conference on Teaching for Social Justice
Madison High School
2735 NE 82nd Ave
Portland, OR 97220
Register >>
About the workshop:
This October 21, mostly teenagers and children are heading to the U.S. District Court in Eugene, Oregon, for trial of their Atmospheric Trust Litigation. The youth-driven case accuses the federal government of promoting fossil fuel use and accelerating global warming that threatens the youths' personal security, liberties, and property. This case offers a monumental teachable moment for youth across the nation about how to use their rights to defend against government oppression – and what can be done to support their peers. In this workshop, participants learn basic elements of a civil lawsuit and then explore – through a variety of interactive activities – "standing" in a court of law (as a role play using primary sources); how protected classes and new rights are recognized (as a "You be the Jury" activity in small groups); rights under the Public Trust Doctrine (as a class activity); and how cases move through the court system (with an original board game for small groups). Participants gain an understanding of how values, law, science, and politics interface when addressing complex public problems with multiple perspectives.