Examining inalienable human rights and corporate rights.
Upcoming Workshops and Presentations
ULTIMATE TEACH-IN
Winter 2019
Join Riki Ott and Ultimate Civics for a series of webinars showcasing the Activating My Democracy civics curriculum.  The webinars will offer:
Teaching tools and materials
Fresh perspectives on American democracy
Fun ways and ideas to inspire students to become civically engaged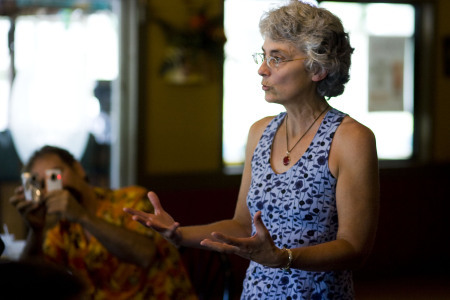 ULTIMATE TEACH-IN SCHEDULE
Note: Webinar schedule pending for January 2019. Please check back in mid-December.
MORE DETAILS
See individual session pages for descriptions, feature activities, specific outcomes, and registration links.
SUBJECTS  
Civics, US Government, US History, Law, Economics, Environment, Health
INTENDED FOR
Classroom educators in middle school and high school, elementary school educators, home school educators, in-service interns, and community educators
WHAT TO EXPECT
These Teach-Ins are interactive online and on-site. So is democracy. Get a group together to do activities together or invite a friend to share virtually.
The format alternates scaffolding with interactive activities, followed by a sharing for each activity, and a final group discussion.
INTENDED OUTCOME
Understand connection between sustainable systems and democracy, empower students to become civically engaged, communicate with administrators the benefits of civics education, and teach lessons competently and confidently in classrooms.