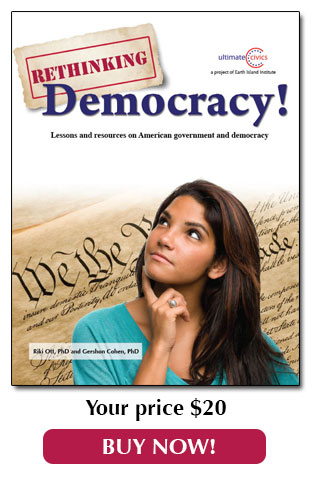 Rethinking Democracy! is a 250-minute American government curriculum created by Ultimate Civics, a project of Earth Island Institute. Rethinking Democracy! explores: (1) the creation and expansion of America's laws and policies regarding the inalienable human rights recognized at the founding of our democratic republic, from the adoption of our Constitution and Bill of Rights to the recent Supreme Court rulings on the free speech rights of multinational corporations to the proposed constitutional amendments; and (2) the role our society's values have and should play in the development of our laws and policies. Rethinking Democracy! engages youth as critical voices in a monumental teachable moment––amending the US Constitution.
Rethinking Democracy! is a series of lectures and interactive exercises that provide a balanced, informative and provocative examination of one of the most important issues in American governance: consideration of who or what is a "person" entitled to rights under the law.
The curriculum fulfills many of the national standards for American government education, economics, thinking and reasoning, and working with others, established by various national standards councils and compiled by Mid-continent Research for Education and Learning in its synthesis of standards, Content Knowledge: A Compendium of Standards and Benchmarks for K-12 Education. You can check out Rethinking Democracy! for free – just click here to download a sample lesson.
Designed and created by Drs. Riki Ott and Gershon Cohen, Rethinking Democracy! has been presented in high schools and colleges since 2009 and is widely acclaimed by educators and students alike. For more information about the curriculum, or to schedule the Rethinking Democracy! course with Ultimate Civics, please contact Lisa Marie Jacobs, UC Administrative Director, at 970-903-6818 or at Admin Director.
What teachers are saying about Rethinking Democracy!:
"I want to thank you again for delivering your Ultimate Civics curriculum to my American Government students. You joined us in the final week of a year-long course and your discussions and activities related to personal values and guaranteed rights provided meaningful closure to our year of study. We learned a great deal from your presentation on the history of corporate rights. You did a masterful job of summarizing the Supreme Court cases and provided a nice balance between the majority and dissenting opinions. The interesting stories and visual graphics that you shared made it much easier for us to understand the evolution of corporate power. You certainly succeeded in generating interest in this important topic, as my students worked hard to research opposing viewpoints on the Citizens United case. The short films that you shared about award winning student projects reminded my students that they too can make a real difference. I look forward to presenting Ultimate Civics to future students, and would strongly encourage other Civics teachers to do the same."
Howard Wayne, American Government Instructor, Sitka High School, Sitka Alaska
Teachers at the Northwest conference for Teaching Social Justice said:
"Youth know how to change the world. It is up to teachers to build their confidence to act!"
"Powerful history lesson of court-case development of corporate personhood."
"Democracy is work — we need to teach people what that work is!"
"Sustainability and democracy are entwined!"
"Excellent modeling of effective, inclusive, and inspiring teaching!"