Inspiring youth to engage in activating democracy and emerge as game changers
COURSE OVERVIEW
To survive and thrive, democracy must be a work in progress. Yet civics is usually taught as a static set of information that seems fixed and settled. Ultimate Civics has developed Activating My Democracy as a dynamic way to turn your students onto the active power of civics, as fluid and adaptive instructions for engaged citizens to support a living democracy. 
(1) Move ideas into action; (2) Understand values, wealth, and rights; (3) Understand rights, privileges, and the balance of power; (4) Trace the historic roots of the democracy crisis in current events; (5) Amend the U.S. Constitution to protect human rights; and (6) Exercise our rights to defend what we love.
OVERVIEW OF LESSON FLOW
Tools + Rules = Game Changers
TOOLS:  Students learn tools and skills available to citizens for understanding and protecting our wealth and liberties in a constitutional democracy (lessons 1 and 2).
RULES:  Students learn basic concepts and structure of government in principle and practice through lens of landmark laws that have shaped our society (lessons 3 and 4).
GAME CHANGERS:  Students explore two critical issues of their generation and what they might do to create game-changing action plans to support ongoing efforts (lessons 5 and 6).
LESSON PLAN CONTENT
Each lesson plan is supported with a teacher's guide, PowerPoint slides, film clips, activities, vocabulary, exit tickets (learning assessment), and resources. Lessons 5 and 6 also provide extension ideas and resources for teachers to support youth who want to create and conduct their own action plan as a class or independent project. Time for each lesson varies.
EACH LESSON CREATES DEEPER UNDERSTANDING, MEANINGFUL DIALOG AND IDEAS FOR ACTION
Lesson 1:
How to move ideas into action
Students analyze and discuss film stories to identify basic elements of SMART action plans created and implemented by their peers. Peer learning and interactive exercises nurture self-efficacy and support the role of young citizens in creating a more sustainable and democratic society. (Time: 50 minutes)
Lesson 2:
Understanding values, wealth, and liberties
Students explore and articulate what they value, then examine how the value-based liberties and principles enshrined in the Declaration of Independence were moved into legal protections through the Bill of Rights. Using select current events, students learn how, and how well, our rights work to defend our wealth and well-being and to curb government abuse of power. (Time: 50 minutes)
Lesson 3:
Who rules?
Rights, privileges, and the balance of power
Students critically examine the conceptual framework of the Constitution, Bill of Rights, and Civil War Amendments to understand how internal threats from fear of other and love of power were institutionalized in these documents. Students are introduced to a new threat created through judge-made law and the court's role in shifting the balance of power during the first 100 years. (Time: 100 minutes)
Lesson 4:
Who rules?
The democracy crisis
Students continue to explore the democracy journey, starting with people's movements for civil liberties and civil rights during the 1950s to 1970s. Students are introduced to the Powell Memo of 1971, the business community's response to this perceived attack on the American free enterprise, and then explore the landmark laws and social consequences of the resulting strategic legal campaign, organized by the Monied Power, to influence public opinion and, hence, political campaign outcomes. Students summarize the democracy journey, creating their own narrative of who rules. (Time: 50 minutes)
Lesson 5:
Real people to the rescue
How to protect our liberties

Students explore reasons and ways to amend the Constitution to establish that only natural persons have natural and fundamental rights and that money is not speech. A film and interactive exercises help students understand and describe what a constitutional amendment could do, the social consequences with – and without – such an amendment, and how citizens can engage government in this process. (Time: 50 minutes)
Lesson 6:
Our future is a constitutional right!
How to use our rights to defend what we love
Students consider why people seek judicial relief and examine basic elements of a civil lawsuit, drawing on real examples from the youth-driven landmark climate cases in federal and state courts. Students explore: "standing" in a court of law; how protected classes and new rights are recognized; rights under the Public Trust Doctrine; and more. Students gain an understanding of how values, law, science, and politics interface when addressing complex public problems with multiple perspectives. (Time: 200 minutes)
TEACHING TOOLS INCLUDE
Teachers are fully supported step-by-step with guided materials and engaging media.
ONLINE
VIDEOS
INTERACTIVE
POWERPOINT
TEACHER
GUIDES
STUDENT
WORKSHEETS
RESOURCES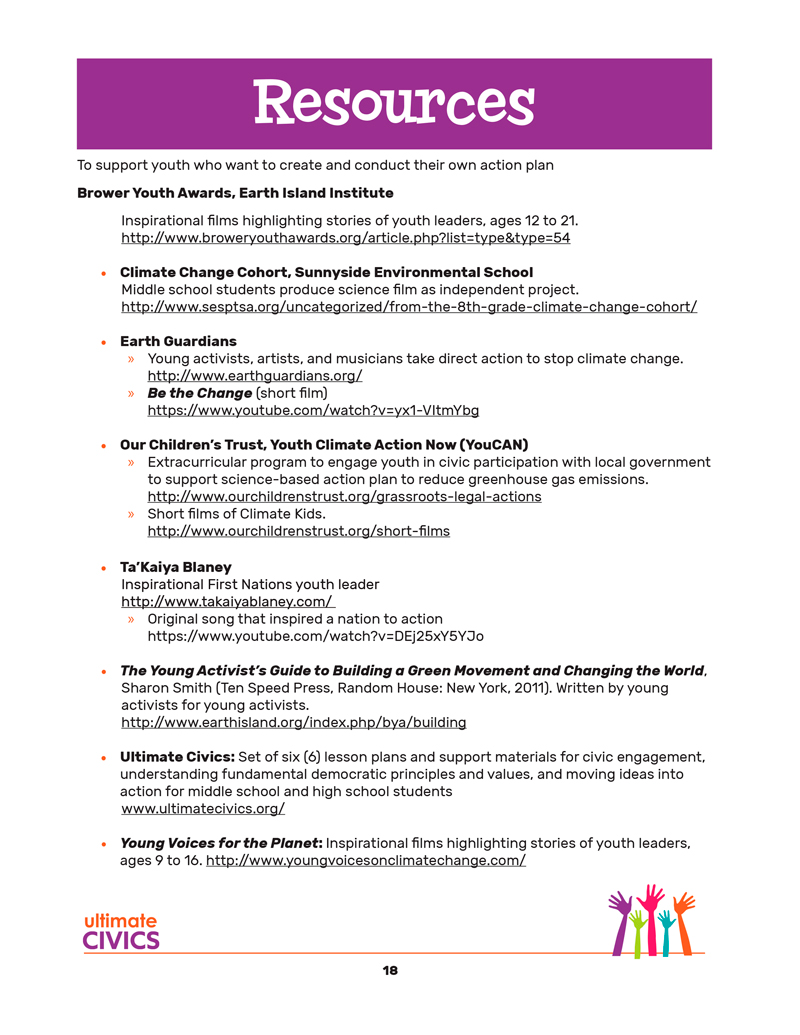 VOCABULARY
LISTS